It's almost International Development Week! Hooray…?
Well, it's International Development Week (IDW) next week—a  time to celebrate Canada's contribution to global sustainable development and to engage the public on these issues.
As an international development professional, this is a week I normally enjoy immensely. But this year, I'm not going to sugarcoat it: I'm disheartened by the deplorable events of these past few weeks. The new U.S. administration promises to move away from an ethos of international cooperation to one of isolationism, directly contradicting the values that have traditionally driven the States, Canada and other nations to collaborate to improve conditions for people everywhere. We've seen a slew of actions that threaten our neighbours' civil rights and well-being. We've seen scientists muzzled on climate change, 20 million people's access to healthcare jeopardized, the Dakota Access Pipeline green-lit, steps taken toward building that infamous wall, and a Muslim entry ban implemented.
But it's important not to lose hope. The theme of IDW 2017 is "Leave no one behind: Canada contributes to global goals," and it couldn't be more timely. Civil rights and feminist activist Audre Lorde said, "I am not free while any woman is unfree, even when her shackles are very different from my own." This applies any time anyone's  civil liberties and human rights are threatened. It's why we at EWB believe in fighting poverty and it's why we incorporate anti-oppression into our work: to leave no one behind or unfree.
Hyper-Aware and Motivated
Just a few weeks ago I was in Edmonton for EWB's annual national conference where hundreds of young, engaged Canadians converged to talk about how to tackle poverty and other global development challenges.These young people are among the most highly engaged and educated, and they'll make you feel grossly inadequate when you hear them list off all of the extra-curriculars they take on in addition to school.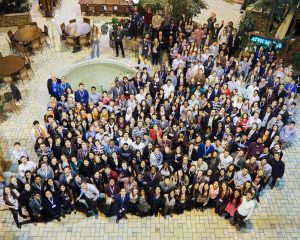 It was heartening to hear what they had to say. There was an overwhelming feeling of concern about current events and progress (or lack thereof) toward the global goals, but they were also resolute in their desire to find solutions. This is a group that is also hyper-aware of their own privilege and how systems of oppression work, and they are admirably motivated to use that privilege to dismantle those systems and lift others up.
So now, whenever I read the latest odious news item, I take heart knowing that those young people are passionately working on solutions to our most pressing problems. And we should all take heart in that this signals massive support for the democratic, cooperative and humanist ideals that EWBers and that Canadians hold dear. We believe that with this shift in global politics, Canada has an opportunity to set an example by championing these values.
Championing Diversity
Still, let's not grow complacent. Hateful events happen in Canada too, as we just saw this past weekend in Quebec City. But acts like this don't represent the values of the majority of Canadians. The Canadians I know are champions of diversity, inclusivity and equity—in Canada and around the world. And there's a way you can help champion these values and press our government to champion them too.
We'll be sharing a lot of interesting stories next week from young Canadians across the country about why they support global development, and we'll also be hosting three Twitter Chats as a way for all of us to talk about these important issues and engage during #IDW2017.  We want to hear from you, so stay tuned for more details, but in the meantime: follow us on Twitter, check out the hashtag #AskEWB, and like us on Facebook to learn of these upcoming initiatives so that your voice can help shape Canada's global development strategy.
Anne is the Communications Lead for EWB's Policy and Advocacy Team. She has an honours degree from Concordia University with a background in the environmental and international development sectors and has international communications experience working in North America, Europe, sub-Saharan Africa and the Middle East.