EWB is committed to fostering a global movement to eliminate poverty. To achieve this vision, we collaborate with a variety of forward-thinking partner organizations.

EWB is a founding member of the Beyond Miles program. We have been generously supported by Aeroplan since 2007. Aeroplan Miles, recently acquired by Air Canada, are critical in enabling change around the world.
Since our partnership began, Aeroplan members have donated nearly 50 million miles to EWB through Aeroplan Matching Week, which we typically organize every year in the fall.
EWB uses Aeroplan Miles to send young professionals and recent graduates across Canada to sub-Saharan Africa to experience a year-long international placement with emerging social enterprises and development organizations to help meet the UN Sustainable Development Goals.  These individuals have an opportunity through our Fellowship to deliver necessary talent support to organizations contributing directly to end poverty in African communities.
With the Aeroplan miles you donate, Air Canada will generously match up to 500,000 miles, making it possible to send EWB Fellows to Africa, and bring a group of energetic innovators from our African partners to Canada each year.
You can ensure these initiatives continue into the future. EWB's Matching Week is scheduled for September 2019. Stay tuned!
Donate your Aeroplan miles now.
---
Financial partners.
Our valued financial partners play a vital role in our work. By supporting EWB people, programs, ventures, ideas, and innovations, the following organizations empower us to create systemic change in Africa and Canada, to the benefit of millions.
Principle Partners

Global Affairs Canada (GAC) has been a long time supporter of EWB. Much of the work we do through EWB is in large due to the support we receive from GAC, and our impact is tied to their assistance in many ways. In large support to GAC, EWB is able to deliver a robust and high-touch Fellowships program in sub-Saharan Africa. Sending talented individuals for work abroad is our primary form of investment to nurture high-potential organizations and provide talented youth unique international experience to develop critical learning and leadership skills.
With GAC's contribution, EWB is also able to invest in the skills and leadership development of aspiring Canadian leaders and changemakers. This includes running Presidents Retreats for our student leaders across Canada and providing a host of teaching moments and resources to around system mapping, international development and sustainable change.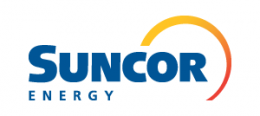 For over a decade, Suncor has helped EWB put together an annual conference each year for approximately 400 students and young professionals. Our annual conference is a moment to foster deeper connections and inspire new ideas about how to create systemic and sustainable social change. To date, Suncor has invested over $1 million to help build the leadership skills of Canadians and Africans.
Our partnership demonstrates what is possible in building community resilience in Canada and around the world.