xChange 2017: A Passionate AGM… Yes, You Heard That Right
The Annual General Meeting (AGM) and Q&A period are always fascinating, passionate and exciting moments for Engineers Without Borders. AGMs are not generally described with words like "fascinating" or "exciting". Important, yes. Imperative, yes. But passionate? At EWB, definitely. At our AGM and Q&A held at xChange 2017 this past Saturday in Edmonton, we saw that passion.
The passion comes out through the courageous commitment of the impassioned speeches that the nominees to our Board of Directors delivered. They shared ideas for strengthening EWB and showed their dedication by committing to a new level of engagement with EWB. We are so excited to welcome to our Board Piers Cumberlege (Chairman Europe Veracity Worldwide), Bruce Gregory (CEO at Corsa Technology), Manissa Patel (Director of Finance, Admin and Compliance for Convergence Blended Finance), Kyela de Weerdt (Queen's University EWB chapter) and Rebecca Kresta (alumna of University of Alberta chapter).
The passion of our members also came through in the tough questions that they asked of EWB's board of directors and national office. When the Chair of our Board, Shayne Smith, announced that "this has been the best year yet!" we celebrated as an organization. We are all really proud of our growing partnerships, membership and impact. Ever the critical thinkers and big dreamers, I could feel our members adding a "but…" This "but" is for all the work, learning and growing that we still need to do.
For example, the fact that EWB staff, fellows and members have begun to learn about, and pay attention to, Indigenous reconciliation in Canada is one way that we have grown but have so far still to go. The tough questions that our members raised spanned all the areas of our organization, from the need for greater diversity in our leadership positions, the structure of the national conference, the challenges with chapter fundraising, to the ways that we invest in small and growing businesses in sub-Saharan Africa, and so much more. These questions are crucial to the accountability and transparency of this organization. As a member of our Board of Directors, elected by our members at the 2015 AGM, I know that the issues raised by our members help shape the governance of EWB.
Committed to the Whole Organization
So, we EWBers are not just a dispersed group of members across the country and world, loosely interested in the goals and growth of the organization as a whole. No; we are systems change thinkers. We see how EWB is a system that includes strategy, financing, partnerships, relationships, communities, personal commitment, vision and so much more. We know that it is important to understand how our own piece of the EWB pie fits within the whole EWB system and the broader systems in which the organization operates.
To be dedicated to EWB in one capacity, as a chapter member in Fredericton or a Fellow in Accra, is to be thoughtful, critical, questioning and committed to the whole of EWB. That commitment to EWB is why a chapter member based in Canada asked a careful question on Saturday about how we monitor and evaluate the impacts of our work in Sub-Saharan Africa. That is why an EWB alum called on the organization to be clear about the structure of our portfolios and the strategy of our investments.
The AGM and Q&A serve as spaces for our members to hold us (the Board and CEO) accountable, to strive for transparency in our work, to learn about the issues that matter to our members and to be humbled by the intense commitment of our members. So yes, you heard it right, the AGM and Q&A are spaces of fascination, excitement and passion in EWB.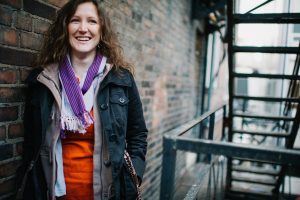 Miriam is a member of EWB's Board of Directors. Before joining the board, she was a Junior Fellow at the National Office, a Long-Term Fellow in Ghana and a Venture Leader in Ghana. Miriam is now a PhD Student in Anthropology at the University of Toronto.