xChange 2017 Day 1: The Learning Journey on Indigenous Reconciliation
The lights dimmed to darkness. The beating of drums filled my ears. I'm sitting in a conference room with 500 other delegates on the first official day of xChange 2017 as we heard the voice of an EWBer and many more stories like his:
"My turning point came one dawn, at 2:30 AM. I couldn't sleep. I was angry within. And sad at the same time. The question why Africa is still poor kept echoing in my mind. Then I heard another question: 'How many problems are there in Africa?' My answer to this was: 'Plenty problems! About 1 billion!' And then I thought, how about I create a movement to empower and to inspire the '1 billion' Africans, at least starting from the youth, to turn the '1 billion' problems into '1billion' projects. This is why and how 1Billion Africa started."
– Prince Adu-Appiah, 2017 Kumvana Fellow from Ghana, and Founder of 1Billion Africa
The emcee then reminds us that "we all come from different places with different stories but we are now here together united by a common purpose. Everyo ne of you has something to share. You are all bringing something to conference to share with one another."
These stories were followed by a moving welcome and opening by Chief William (Billy) Morin of the Enoch Cree Nation. Chief Morin welcomed us to Treaty 6 territory where the xChange conference is held, and shared feelings of immense possibility among the EWB community, and a vision of reconciliACTION for Canada's Indigenous and non-Indigenous peoples.
This is my 10th EWB conference, but this one is extra special. Because for the first time, EWB is in an exciting phase of exploring how we can contribute to tangible impact on challenges of inequality and poverty right here in Canada. I've been leading the effort with our chapter community to explore how we can broaden and deepen our understanding of Indigenous history and culture, educate ourselves on the Truth and Reconciliation Commission's work and calls to action, and explore how our movement might take meaningful and tangible action towards reconciliation.  
I've been working to build knowledge and gain guidance from as many people and places as I can. After Danika Littlechild's fantastic keynote address, I connected with her for some advice on what's next in this journey.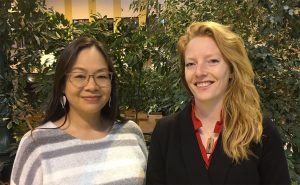 Speaking personally, and I'm guessing for many of us at the conference and reading this blog, we're all interested in learning and doing more. But this is such a big, hairy topic, where do we even start?
Danika Littlechild: I think you start with really small steps. Find the Indigenous champions, friends and allies who can help bring you into this space. You don't have to do it alone. Find people who are interested, who might not be in engineering per se, but maybe have a connection to it. Identify people who can be on this journey with you and help you frame this in the most positive, constructive way possible. There are guiding frameworks already like the UN Declarations on the Rights of Indigenous Peoples and the Truth and Reconciliation Commission's Calls to Action. But engaging with people who are already involved in this work is really important.
Over the past few months, I've been building a lot of relationships like that and it's really energizing. I find every person I talk to recommends four more people for me to connect with, so my, and EWB's network in this space is growing rapidly! For example, it's great to have Michelle from the 20/20 Catalysts Program at the conference, to have a discussion with Engage North on Reconciliation on Saturday night, and to be engaging in a training with Canadian Roots on youth involvement. We are also exploring the development of an Indigenous Advisory committee to help explore this work. What I'm trying to navigate now is with whom to start, with so many organizations to work with?
DL: I created a reconciliation plan template, which I've used many times. The intention is to provide people with first steps. The first question to ask yourself is: looking at how your organization is structured and your policies, is that going to facilitate reconciliation or are there some obstacles in there? Do an internal scan. Also do an external scan to find out who are the champions and resources you can draw from. The advisory committee is a great idea. Diversifying staff and volunteers is really important. Then start to engage with Indigenous communities in a more substantial way. It can be as simple as having coffee or meeting in a place that is special to your organization or that Indigenous person and have a conversation.
Set tangible outcomes you can measure. It's really easy to have high level dialogue, it's much harder to have on the ground action. Create some big, hairy goals but also some reasonable, achievable goals for the year. So that by the end of 2017, you can assess: did we create a reconciliation plan? Did we increase our First Nations volunteer base by this many people? Did we establish a First Nations advisory group? If we did, how are we using it in policy implementation? Just go step by step.
Thank you, that's very helpful. It sounds like we have been on the right track and definitely have a lot more work to do. Finally, I'm wondering how to leverage and support our 1,600 passionate community members so that we can all approach this slowly and in an informed way? Not to hold us back but to make sure we're all taking a cautious and patient approach to what is a sensitive topic?
DL: One of the best analogies I ever heard was from the late Patricia Monture-Angus, who is a Mohawk lawyer. She was one of the first ever Indigenous women to become a lawyer in Canada. She was talking about anger, which doesn't necessarily apply here. But she said something like, "sometimes I can get so angry about all these different things that have happened and my anger is like a fire. We have to condense that fire so that it doesn't become a wildfire and go out of control and in all different directions. Condense it into a tiny blue flame." Be completely focused and go deep on one or two issues.
I would encourage EWB to create an overarching focus for your reconciliation plan. What would be one thing you can do on reconciliation that would be fundamentally transformative for EWB? Make it specific to your ultimate mandate and goal and support the ongoing operations of EWB. Don't let it go in all sorts of tangents because it could go anywhere and everywhere. So gear all of your action towards accomplishing that one transformative shift on reconciliation that would make a huge difference for EWB. That's your tiny blue flame.
Thank you, Danika, for those words of wisdom!
Every insight helps us develop our exploration and approach for contributing to reconciliation. An inspiring session on Reconciliation and the Truth and Reconciliation Commission with  Karley Scott shed some light for our community on how we can bring reconciliation into our everyday lives.
How to live reconciliation in your life…
Look inward, not outward.

Think about where can you make space for reconciliation?

What is your reconciliation action story?

Do you have a personal reconciliation policy?

Many of us have an embarrassing amount of good fortune, how can we use that in our own reconciliation journey?

Reconciliation is an everyday story.
Some ideas to get started…
Educate others on what you have learned.

Challenge assumptions.

Be suspicious of the status quo.

Invest the time.

Don't rush!
Thank you, Karley, for your informative and moving presentation and guiding us on this personal journey.
And finally, if there isn't enough for you to read through and digest, I'll leave you with these resources to check out:
Today was emotionally intense and deeply humbling, but I feel uplifted by all the eagerness to learn that I see around me. We have a lot of action-learning to do as part of our contribution to the effort of reconciliation in Canada. I hope for the delegates at conference and our wider community, we can all start learning about reconciliation, building partnerships with Indigenous communities, and connecting with some great speakers and facilitators to support your learning.