Jennifer Hollett had us over to her Twitter digs and we had a blast. Oh, and we also talked about some big issues.
Longtime EWB friend and head of news at Twitter Canada, Jennifer Hollett, had us over to her downtown Toronto office for an afternoon to chat about international development. We covered the big issues of Canada's global responsibilities in a post-Trump world, community organizing and how to effectively exercise of our democratic voice, and the need to look at all of this through a gender lens. And it was so much fun!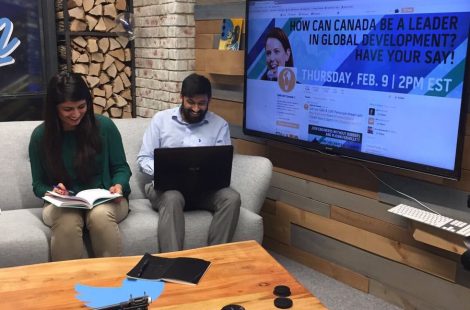 My colleagues from the EWB campaigns team, Sasha and Laveza, and I arrived in the early afternoon to set up for the Q&A with Jennifer. Our tech team, Garrick and Phil, had already begun to hook up their ridiculous amount of gear and cameras for the Periscope live stream in the Twitter Blue Room. Why broadcast this on our smartphone if we can have two cameras, three laptops, and 20 cables?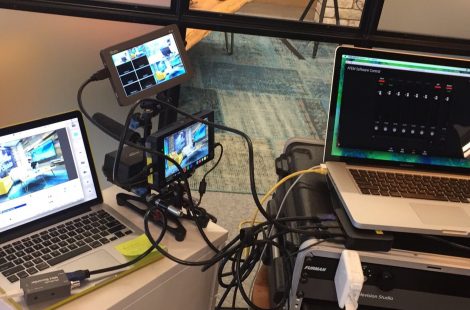 We held our Q&A war room in the Twitter Library (where Justin Trudeau sat for his Twitter Q&A) and Jennifer thoughtfully and effortlessly fielded some fantastic questions from our community.  
To quote Harvey Milk, "you have to give them hope." People are desperate for hope right now. Offer it! #askEWB https://t.co/qxpblefXS8

— Jennifer Hollett (@jenniferhollett) February 9, 2017
In the Blue Room
After the Q&A, we quickly ran over to the Blue Room, smoothed out our hair and did a quick sound check before starting the live interview with Jennifer, Sasha and Laveza. We had a tiny technical issue at the beginning but it did not stop us from having a lively discussion about policy, activism, gender, international cooperation, youth action and everybody action…and Justin Trudeau even made an appearance! (Fine, it was in cardboard cutout form.)
@EWB chats #globalgoals with @jenniferhollett https://t.co/aoa8pn2cRL

— EWB-ISF Canada (@ewb) February 9, 2017
After we wrapped, Jennifer hung out with us a bit longer and geeked out on more policy stuff before she had to pull herself way and rush to the next meeting.
It was a fantastic afternoon and it was heartening to get this level of support from folks at Twitter but also all the interest from the public on the issue of global development. As we talked about with Jennifer in the Periscope chat, everything under global development (gender, religion, ethnicity, poverty, climate change) are intersectional and related to each other. It's complex. We can choose to feel overwhelmed by it all or we can choose to roll up our sleeves and engage and wrestle with the issues that matter to us.
There are no easy answers but it starts with people coming together. We have to keep talking about it, stay engaged and walk the talk. And send a pizza to our government representative if you can't get through!