So you want to be an EWB Fellow?
Engineers Without Borders combs the best talent from across Canada and each year, hires 25–30 bright and innovative professionals to work with our teams and ventures in sub-Saharan Africa. We are in the midst of hiring for the program, so what better time to highlight our incredible team of fellows.
Devon Matthews, EWB's Fellow Recruitment and Admin Coordinator interviewed current fellow Abdul Mohamed, who is working with EWB's Strategy and Investment Team in Accra, Ghana.
Devon: Abdul, what were you doing before EWB?
Abdul: Prior to taking on the Fellowship with EWB I spent over seven years in the energy industry in Ontario, specifically working on developing robotic inspection tooling of the nuclear sector. It was definitely very interesting and challenging work.
D: Why did you choose to apply for a fellowship with EWB?
A: I had a drive to do something different; I desired to do work that had more meaning and impact. One of the things I struggled with in the corporate world was spending a lot of time and resources on projects that weren't really all that innovative or meaningful. Prior to applying for the Fellowship, I had spent a year doing business-related contracting work and exploring what my next step was going to be. I knew I wanted to be on the African continent, and that I wanted contribute to development through fostering business. I heard about the EWB Fellowship program and realized it fit my direction and interests, and ended up taking the plunge.
D: You plunged indeed! Now that you've been working with us in Ghana with the Strategy and Investment team for five months, do you feel like your expectations have aligned with reality?
A: I've really appreciated having my expectations exceeded. I had put a lot of thought and effort into applying for and securing the job, but there's always some risk that reality won't match expectations. It's a big jump moving overseas for a year and committing to this work, but it was really reassuring to realize in my first few months that I am doing exactly the type of meaningful work I wanted to do.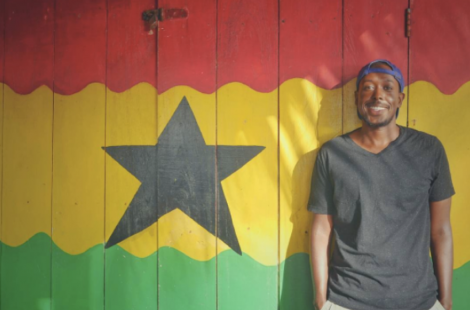 D: That's great to hear. What exactly does your work entail on the Strategy and Investment team?
A: In short, I coordinate with my team to support local entrepreneurs in our portfolio by helping them to scale their initiatives. I personally spend a lot of time scouting new ventures for EWB to invest in, which means reaching out and having really motivational and inspirational discussions with African innovators about their work, and the potential of EWB partnering with them.
D: When you're finished your fellowship and move on to new opportunities, what do you think you'll be bringing to future employers that you didn't have before joining us?
A: I think I'll bring a different perspective, and insight into ways to approach and solve problems. Additionally, this experience has equipped me with a greater knowledge of international business in alignment with systems of poverty and oppression; this is important knowledge to have in the 21st century. I also believe I think employers will really value that I took the time to chase my dream and make an impact in the world. Not everyone takes the plunge but I think having done so will give me an edge in the job market.
D: Abdul, if you had to describe the EWB Fellowship program in three words, what would they be?
A: I would say rewarding, challenging, and life-altering. That's four words.
---
Abdul is just one of the 30 incredible leaders we currently have working with us in sub-Saharan Africa. In the video below, you'll see four more folks highlighted that are doing great work in East Africa.
Does this opportunity sound like something for you? You're in luck because EWB is currently hiring our next cohort of fellows. Applications close February 27th – make sure to check out positions and application instructions before it's too late.