The World Bank & IMF Annual Meetings from a EWBer's Perspective
Swimming with the Big Fish
Every year, the "who's who" of international development and development financing get together for one week to talk about a wide range of global issues, including the economic development, poverty alleviation, and aid effectiveness at the International Monetary Fund (IMF) and World Bank Annual Meetings. So how does an EWB chapter member find himself attending these meetings?
Enter Young Diplomats Canada (YDC). YDC is a government-sponsored not-for-profit organization whose mission is provide Canadian youth like myself with the opportunity to attend global political forums and gain experience in international diplomacy. It was through YDC that I travelled to Bali, Indonesia, to attend workshops, panels, and discussions at the Annual Meetings.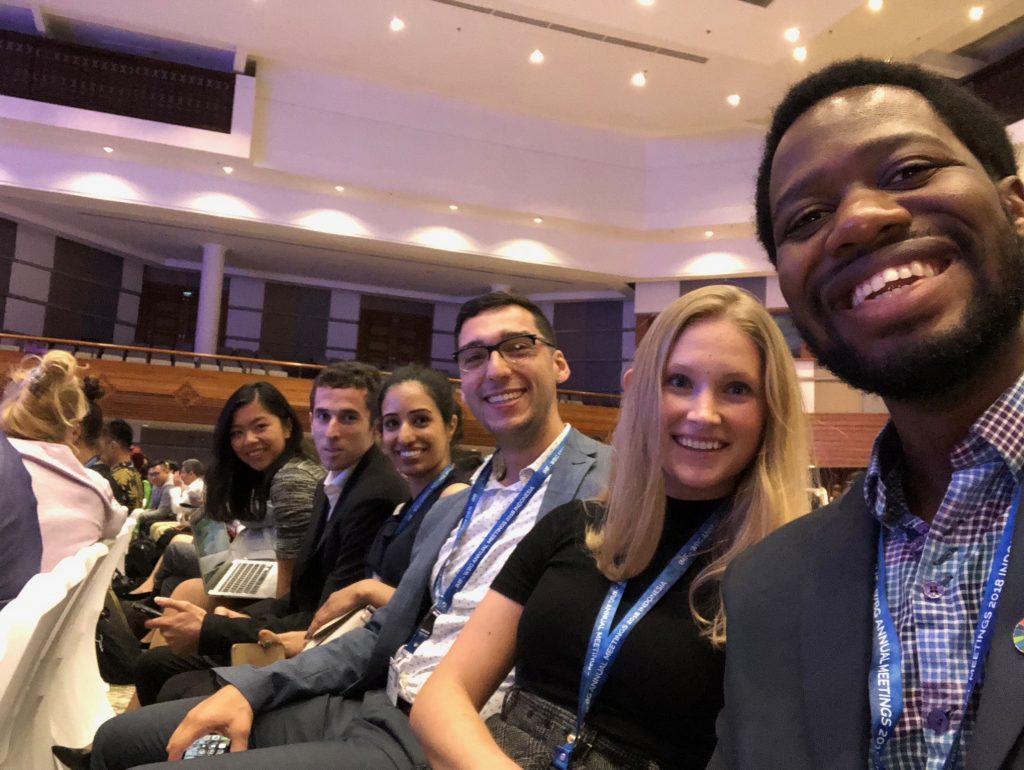 So what was it like?
In a word, the meetings were eye-opening. It was invigorating to have direct access to thought leaders and professionals whose jobs are to better the world we live in.
The experience was similar to my first EWB xChange conference four years ago – wide-eyed in a new city, feeling ever so slightly like a fish out of water, yet eager to discover all that I could. I learned much about the World Bank, the IMF and the development sector in general, and my imagination grew as to the many opportunities available to youth pursuing careers in development. As an infrastructure engineering student, I've always struggled to find career paths in development that relate to my field, but at the meetings I discovered exciting new intersections between the two which I hope to pursue in future.
Financing the Sustainable Development Goals
As our EWB community turns its focus to the United Nations (UN) 2030 Sustainable Development Goals (SDGs) through our Hello 2030 Campaign, the numerous discussions that focused on the SDGs were extremely relevant and exciting to me.
One of the biggest challenges the world faces in achieving the SDGs is the $2.5 trillion annual funding gap required to achieve them. In a session on "Leveraging Policies for Sustainable Development Goals" economist Jeffrey Sachs noted that the roughly 60 low-income countries whose GNI falls below $3,000 per capita will not be able to finance the SDGs alone. Foreign aid and private sector investment will play a critical role for these countries.
Mobilizing private sector financing will likely help close the financing gap; however, one cannot discount the continued importance of Official Development Assistance (ODA). For years, EWB has been lobbying the Canadian government for steady increases to our ODA, and time and time again our efforts have brought forth meaningful change. The challenge now for our community is to find new and creative ways to push the government to not only spend more money on foreign aid, but to be more creative and effective with it.
Youth Leadership on the SDGs
This challenge presents many opportunities for us as youth to take tangible actions to achieve the SDGs locally and globally.
While at the meetings, I had the privilege to meet with Mahmoud Mohieldin, the Senior Vice President of the 2030 Development Agenda and a thought-leader on the SDGs. His role at the World Bank is to liaise with the UN and ensure that progress is being made towards achieving the SDGs by 2030. One of the main things I took away from meeting Mohieldin was his emphasis on the potential that Canada has to be a global leader in achieving the SDGs, specifically in creating a framework to budget for the SDGs.
Another, was the role that youth have to play in achieving the SDGs. "There are many ways for youth to contribute to the SDGs," Mohieldin noted in our meeting. "So it's about their choice to partner and push the agenda forward." How can we do that? According to Mohieldin:
By offering fresh ideas and solutions,

By being critical and challenging our leaders to do better, and

By participating events and activities promoting the SDGs.
Bringing it back to EWB
So where does EWB fit into all of this?
Mohieldin's suggestions made me think of the work we do at EWB. As an organization, I believe we are making important contributions toward sustainable development, bringing new ideas and critical perspectives. As we continue to engage thousands of Canadians across the country through Hello 2030 and take actions towards achieving the SDGs, our efforts are contributing to a movement larger than ourselves.
The challenge now (and the opportunity) for us is to continue to improve and grow in the work that we do as individuals and as an organization, to bring new people into the cause, and to find new ways to fight for the change that we want to see in the world. We have much to learn from other like-minded organizations working towards an equitable and sustainable world, and also much to contribute.
David Boroto is an infrastructure engineering student at the University of Toronto and the Policy and Advocacy Lead of EWB's University of Toronto Chapter. You can follow him on Twitter at @DavidBoroto.