xChange 2017: Thank you, thank you, thank you
After months of planning, the doors have closed and the lights have gone out.
xChange 2017: Equality in Action has come to a close. From the moment Leadership Day kicked off until the DJ spun the last song at Gala, xChange was more than we could have imagined.
Our Community
We couldn't have pulled it off without our sponsors. To Suncor, the University of Alberta Faculty of Engineering, the University of Toronto Faculty of Applied Science and Engineering, the City of Edmonton, EPCOR, the Carleton University Faculty of Engineering and Design, Dillon Consulting, Bullfrog Power, 3M, the McConnell Foundation and Aeroplan: thank you for your generosity.
We are also endlessly grateful to our distinguished speakers, facilitators and moderators. Danika Littlechild, Chad Park and Mike Quinn engaged us and prompted countless conversations with their thoughtful and thought-provoking keynotes. Chief Billy Morin led us in acknowledging Treaty 6 territory, while Dr. Suzanne Kresta left us with advice that resonated across social media: do less, so you can be more.
We are indebted to the Edmonton community, which embraced xChange delegates with open arms. We flooded restaurants in Old Strathcona and Garneau, took in two fabulous performances and got a warm welcome from Mobile Experience hosts.
At the Heart of It All
This conference would have been impossible without the volunteers who helped sessions and events run smoothly, and a team of talented photographers who captured every moment (watch our Facebook page for some of their greatest hits). And of course, through thousands of emails, texts, calls and meetings, the Conference Team made magic happen with lots of laughter and maybe a few tears.
As planners, we embraced equality and universality throughout the conference. We facilitated caucuses as a safe space to see our work through the lens of marginalized groups, and we recognized the issues of Indigenous rights and truth and reconciliation. Our goal was to foster an environment of learning, collaboration and action so delegates could discuss the impact they can make in their communities, equitable economic systems and evolving the engineering profession.
Which brings us to our last and most important thank-you. It was the delegates who brought xChange 2017 to life in a thousand small moments before, during after the sessions. These small moments—a long walk with someone you've just met; a discussion that runs into the wee hours of the morning—that make conference priceless.
Curtain Call
As co-chairs, we know delegates will do great work to make this world a more just, equal and sustainable place for all. Consider xChange 2017 your call to action. Show the world what you can do.
With that, it's time for us to sign off. We are extremely grateful for the opportunity to create a space to spark transformative change. It has been an honour and a privilege to chair xChange 2017.
With gratitude and best wishes for the future,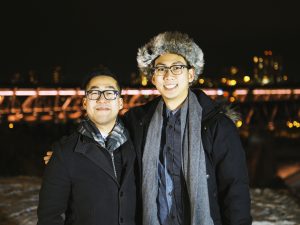 Jeff Ku and Ryan Voon
xChange 2017 Co-Chairs