Letter from an EWB Chapter Member: A unique opportunity to lead while learning
As a third-year Mechanical Engineering student from Ryerson University and EWB Chapter member, I need to find balance in learning opportunities. Between both academics and extracurriculars, I can explore different tools and experiences that will help me become a system change leader and enable me to help EWB create a better world.
Joining EWB in my first year at Ryerson was my first step toward combining my passion for social issues with the skills I gained through my degree. I was immediately drawn into the student group from one meeting and a retreat. I came across like-minded, driven people who shared my unique way of thinking about the world and EWB was helping us learn and apply critical leadership skills to change other mindsets and behaviours.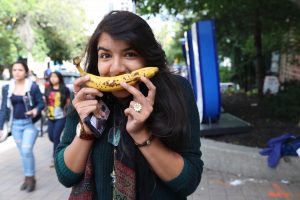 Being a chapter member gave me a practical way to contribute to social change and EWB's global mission. However, practical does not always mean feasible for a university student. Tackling multiple extracurriculars with academics is not easy. It consumes time, energy and emotion and there were (and still are) many times where I would check my motivation for filling my time organizing events, fundraising and advocating for change. As a first-year university student, learning to manage my time while having a full academic and social calendar made it even harder.
But finding a balance is not impossible. Once I realized how much intersectionality there was within all my involvements, I unlocked more clarity and motivation. Over the past two years, I have been on a journey with EWB that has enabled me to indulge my curiosity and hope, and explore the vast potential for learning beyond my classes. Being an EWB chapter member allows me to apply engineering mindsets to tackle real-world issues.
Balancing my class work with EWB commitments helped me realize that I, along with other chapter members, have a unique opportunity to lead as we learn. We gain new perspectives by engaging with a different people in a variety of ways and encourage others to do the same. We are helping ourselves and others grow into systems change leaders with EWB, bringing greater meaning to the subjects, topics and case studies we learn in class. Combining EWB's Systems Change Leadership model with post-secondary education creates greater opportunity to work with people in different disciplines and create meaningful, positive change for people around the world.
Interested in joining a local EWB Chapter? Find one near you and sign up!