Kicking off National Engineering Month… and Listening to Rocks
National Engineering Month is here and EWB is celebrating all this week with stories from our community of awesome engineers! We are sharing some personal reflections of people at different stages of their career on what it means to be an engineer working to solve the complex challenges of our modern world.
Technology is changing at a lightening speed and we need a mix of diverse, creative, curious, and rigorous thinkers to make sure we are innovative, stay ahead, and serve the world. "There's a Place For You" is this year's theme for NEM and we hope you'll be inspired by these stories to pursue your own exciting path in the field of engineering and technology.
Visit nemontario.ca for more info and find an event near you all this month! Join the conversation using #NEM2017.
Our first story comes from Dr. Ania Ulrich from the University of Alberta, who talks about the importance of listening to rocks.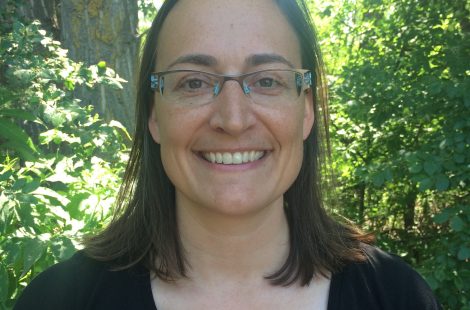 ABOUT ME

My name is Ania Ulrich and I am an Environmental Engineering professor at the University of Alberta! My work focuses on protecting groundwater – a resource that many of us forget about since we can't see it. Yet we are turning to groundwater for our drinking water needs more now than ever before as surface waters become more polluted and droughts become more commonplace. I like to use ideas inspired from nature to clean up contaminated groundwater systems. I use bacteria that eat and therefore destroy contaminants in groundwater. I find nature can be more creative and gentler than us humans in tackling complex problems. Because of diversity, ecosystems have thrived and adapted during times of change.  Earth has experienced extreme environments from oxygen-poor to oxygen-rich, from ice ages to warm periods.  Yet life has flourished during these times because of diversity.
THE WISDOM OF ROCKS
Humans can also thrive and adapt during times of change through diversity – human diversity. As an engineer, embracing diversity is essential to developing creative and robust solutions. Working with people with different backgrounds and perspectives creates ideas I could not come up with alone. When I say "work" with a diverse group of people, what I really am saying is "listening" to their different values and ideas.  
I had the opportunity to work with a Cree First Nation in Alberta studying boil water advisories in their community. One participant in the project picked up a rock, showed it to me and said, "This rock is alive and holds wisdom for us to learn from." My immediate thought was – rocks aren't alive, that is not possible. Then I started to listen – really listen. Which meant stopping the opposing thoughts in my mind. After this meeting I spent sometime reflecting on the exchange.  This is what I realized: I thought I had a strong connection to nature since I use it as inspiration in my work and I thought I was open to all ideas and thoughts. But I paid more attention to certain parts of nature – plants, animals and water – aspects of nature that I relate to. I had not paid much attention to rocks and certainly never considered that rocks could be alive. We tend to pay attention to things that are more like us.
HOW WE ARE ALL CONNECTED
People tend to have more compassion towards people that are like them. By working with Indigenous communities, I have been reminded how interconnected we are and sometimes in ways that are not at first obvious.  Most importantly, I am reminded that everything and everyone is more like me than I realize. If we listen, we can open our minds and learn new things.  When we learn new things, we can come up with better ideas. One change I would love to see people make when it comes to diversity and inclusion is to listen.  Especially, when you start to say to yourself – that is not possible or I disagree. Listen. If you really listen, you will learn.  If you can learn, you can start to understand.  Once you understand, you can then have compassion.  Once you have compassion, anything is possible.
Don't forget to visit nemontario.ca for more info and find an event near you all this month! Join the conversation using #NEM2017.