IWD 2017: Gender Equality Should Be Prioritized in Canada's International Development Agenda
Last summer, I was fortunate enough to work in Ghana as an EWB Junior Fellow for a venture called VOTO Mobile. One project I spent a lot of time on was a counselling hotline for sexual assault survivors. The response to this hotline was both gut-wrenching and eye-opening. We regularly received calls from women fleeing forced marriage, facing pregnancy due to sexual assault, or being beaten by their husbands. It made me wonder how these women's lives would have been different had they been able to access contraceptives easily or seek refuge at a women's shelter. I'll never know.
What I do know is gender inequality isn't a localized issue—it's a global issue with disproportionate effects on women in the developing world. The intersection of gender inequality and economic inequality leaves women in extreme poverty at the bottom of the social support barrel.
This is why I am so passionate about prioritizing gender within Canada's international development agenda. I'm proud of our recent increase to sexual and reproductive health funding in response to cutbacks by our neighbours to the south, and I admire the inclusion of gender equality as a cross-cutting theme in our development portfolio. However, we still have a long way to go. Canada needs to step up and lead by implementing innovative, intersectional approaches to international development.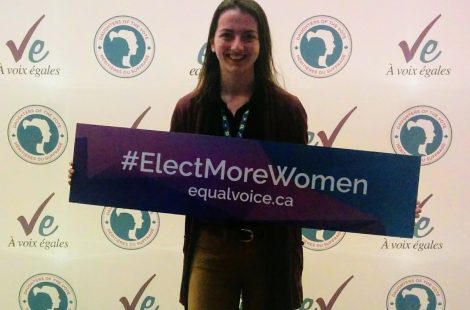 Consider, for instance, the impact of prioritizing gender equality within our peace-building, stability, and security development efforts. Not only would this help Canada save more lives—given women are more susceptible to violence than men in insecure situations—but it would also minimize the flow of vulnerable women and children into a dangerous, oppressive, and over-saturated global refugee situation. By prioritizing gender equality in international development, we can amplify our impact and lead within the global community.
I believe that, as a young Canadian, my voice is the most powerful tool I have to drive social change. This International Women's Day, I'm proud to be leveraging my voice at Daughters of the Vote, a national political forum focused on women's political empowerment in Canada. This celebration and call-to-action highlights the striking difference in opportunity and privilege the fearless female delegates around me and the women whose stories I heard last summer are afforded. To see the disparity stokes the fire in my belly. It reminds me of my responsibility to use my voice to bring gender equality to the forefront of conversations about development. I want to see a world where people of all genders have equal opportunity in life, and I'm going to use my voice to get us there.