EWB alum Kyle Baptista reflects on campaigning then and now
How I Started With EWB
I co-founded the University of Windsor chapter of Engineers Without Borders in 2005 with a team of amazing people I still call close friends and collaborators. Around the world, EWB alumni, staff, board members, volunteers and donors like myself are some of the most entrepreneurial individuals I know. We work across different industries and sectors, but with the same insatiable and pragmatic approach to global challenges that we developed together as students and volunteers at EWB.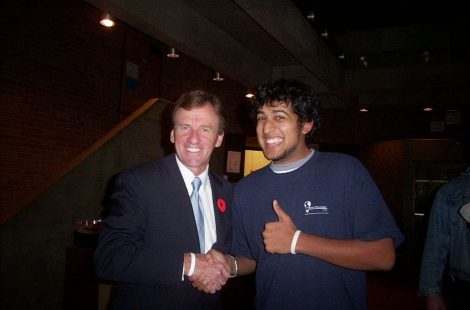 After serving as EWB's Creative Director from 2007-2012, I'm now the COO at CreativeMornings, a global breakfast lecture series for the creative community. CreativeMornings chapters in 160+ cities around the world host free monthly lectures from great creative talents with free coffee, great breakfast, and an inspiring morning dose of creative community.
Campaigns Then and Now
The creation of the Development Finance Institution is a watershed moment for Canada's role in the world. I can only imagine what EWB volunteers are telling their colleagues and friends in workplaces and on university campuses across Canada over the past week. This decision will positively impact women's economic empowerment, poverty reduction and job creation. The creation of a Development Finance Institution will make better use of investment and aid dollars. And they're excitedly talking about this policy all between classes and midterms.

It was the same approach we used 10 years ago, when we were pushing signatories of Bill C-293, which later became known as the Aid Accountability Act. We spent the day traversing the campus, telling our colleagues in engineering, drama and environmental science about the importance of foreign aid transparency. At the end of the day, we had collected 2000 signatures on one campus for this bill. A Herculean effort amplified by the sincere interest and care people had for the issues once they were able to see the impact it would have and the passion that EWB volunteers shared.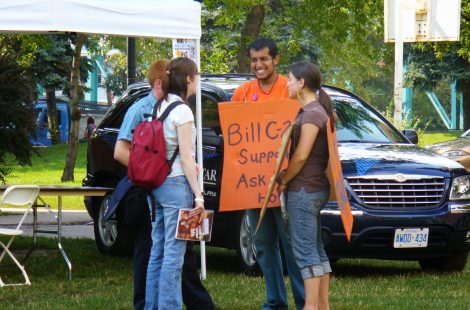 Volunteers at EWB chapters aren't afraid of the complexity around these issues, because they understand their systemic implications and importance. In my eight years at EWB, we took to the Montreal Metro with a call to make international trade fair, we stood next to the produce at Loblaws stores in London, ON and encouraged shoppers to choose Fair Trade bananas, and we hosted town halls and debates for election candidates in Windsor to compare and encourage their platforms and positions towards international aid and development.
Once an EWBer, Always an EWBer
I look back on my time at EWB, as a volunteer, chapter president, Junior Fellow in Ghana, staff and donor with great pride. The problem-solving pragmatic mindset is shared often amongst those in the engineering profession, but it is amplified by the diversity and commitment that EWBers bring from different disciplines and backgrounds. These are skills I apply in my current position at CreativeMornings, growing a thoughtful, generous global caring creative community that welcomes a new chapter every week somewhere in the world. The feeling is best captured in the CreativeMornings Manifesto, stating: "Everyone is Creative. Everyone is Welcome."

EWB is the greatest tool in your arsenal to tackle global challenges with enthusiasm, thoughtfulness, persistence & vigour. Take it to the streets.
If you're an EWB alum, we want to hear from you! Share your stories with us info@ewb.ca.