Engineers Without Borders Canada Announces Seed Investment in Ethiopia-based GreenPath Food
Engineers Without Borders Canada (EWB), an early-stage investor in innovative, Africa-based social enterprises, today announced its seed investment in GreenPath Food. GreenPath, an Ethiopian produce company, partners with smallholder farmers to source fresh, nutritious food grown using sustainable, organic methods that benefit the environment while significantly increasing farm yields and incomes. GreenPath marks the seventh venture in EWB's growing portfolio of investments.
Nearly 85% percent of Ethiopia's population of 94 million live in smallholder farming households. Many of these farms suffer from low productivity, due to a number of factors including limited access to seed, poor soil fertility, and poor farming techniques. Farmers are moving to chemical fertilizers and improved seed, though these can be prohibitively expensive and over time, can damage soil and the ecosystem. As a solution, GreenPath has designed a system that takes advantage of the asset that these farmers possess – small land areas make ideal organic, biodiverse farms, that can profitably grow multiple high-value crops with the proper support. Additionally, GreenPath's focus on natural fertility reduces the need for farmers to access significant external capital. Capital is a key constraint among millions of farmers in Ethiopia where the average smallholder household generates less than a dollar per person per day.
GreenPath's partnership with farmers enables them to make the transition to permaculture-based farms, thereby creating a sustainable and self-sufficient agricultural system. Partner Farmers come to GreenPath's service centres to buy their organic inputs, receive guidance on managing their new permaculture systems, and drop off their produce. GreenPath closes the loop by identifying and selling the produce to domestic and international retailers who share their commitment to fresh, organic certified, high-quality, sustainably-grown food.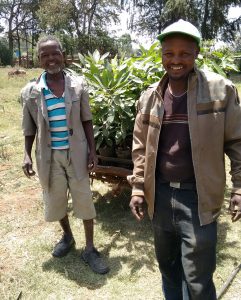 "By training farmers to take up an environmentally beneficial alternative method of farming and providing them with a means to earn substantially higher incomes, GreenPath is paving the way for critical systemic change in this sector," said Nicky Khaki, Managing Director for EWB Ventures. "EWB is proud to support GreenPath as it champions smallholder farmers and the move toward sustainable agriculture."
"GreenPath is genuinely excited to bring EWB Ventures on as a partner and investor. EWB's support will enable GreenPath to deepen and broaden the work that we do with our Partner Farmers" said Jacie Jones, GreenPath's Managing Director. "We have been keen to partner with EWB, given the experience, professionalism, and values of the organisation" added Eric Couper, GreenPath's Director of OperationsGreenPath's co-founders and advisors are former employees of the Ethiopian Agricultural Transformation Agency (ATA), and bring significant experience working in the sector in Ethiopia. GreenPath's approach and dedication have allowed the company to achieve a number of impressive milestones since its founding. It recently became Ethiopia's first EU Organic certified producer; the team has expanded to include more than 20 people; and it has begun selling Partner Farmers' produce internationally.
About Engineers Without Borders
EWB is a Canadian NGO that invests in people and ventures to create a thriving and sustainable world. Bolstered by its network of 40 chapters and 1600 members, EWB provides seed funding, talent and mentorship to social enterprises throughout sub-Saharan Africa.
EWB Ventures is a seed-stage investment vehicle backed by Engineers Without Borders Canada. It is dedicated to supporting pioneering early-stage, highly scalable, innovative social enterprises in Sub-Saharan Africa. In addition to sourcing and supporting strategic talent placement, EWB Ventures makes tailored, long-term investments of up to $100,000 in ventures (from concept to revenue) with high potential to drive systemic change for the benefit of the underserved.
Media Contact: Ronan O'Beirne, Engineers Without Borders, 1 (866) 481 3696, ronanobeirne@ewb.ca