Beyond miles: creating opportunities for greater impact
Aeroplan has been creating possibilities for Engineers Without Borders Canada (EWB) for thirteen years. In 2004, Aeroplan launched the miles donation program with EWB, their first non-profit partner. Since then, EWB has been able to offset the costs of flights for hundreds of fellows travelling to support social development in Africa.
Sunday, September 24 marked the end of the 2017 Aeroplan matching week, which was another incredible success. Thanks to Aeroplan's commitment to match donated miles, EWB raised more than 2.2 million miles to help send more fellows overseas in the coming years. Our organization is committed to global leadership development, so we are deeply appreciative of how Aeroplan enables us to continue giving students, professionals and entrepreneurs opportunities to learn and contribute to the world.
However, throughout our thirteen-year partnership, Aeroplan has created more possibilities for EWB, beyond those created by donated miles. After forming the partnership in 2004, Aeroplan sent its own employees to see EWB's work. Christine MacDonald, a customer service agent at the Vancouver Call Centre, was among those selected to go to Ghana to visit and experience EWB's water and sanitation work there.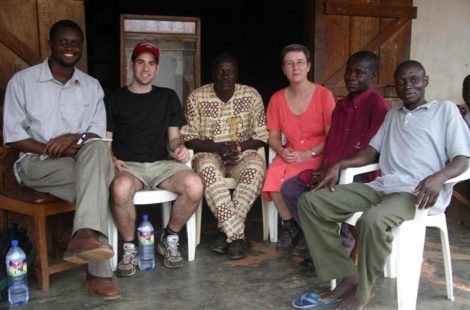 Christine was thrilled to be selected to visit the work EWB and our partners were doing to help others and thrilled to help others herself. In fact, she had made retirement plans with her late husband before he passed to travel the world, listening to people's needs and this trip was a great opportunity to start.
Christine was in Ghana for three weeks, collecting as many stories as possible about Ghanaians and about the fellows leading the projects.
"The best thing I learned was during the briefing week [with EWB] in Toronto, that the consequences may not be what you planned," Christine said, "I learned to ask people what they need instead of doing what I thought they want."
I learned to ask people what they need instead of doing what I thought they want.
When we spoke with Christine about her trip last month, it was clear the trip had a lasting impression on her, beyond Aeroplan's or her intentions for the trip. Her recollection of the people she met, such as EWB's engineers and community residents, demonstrated not only the value of first hand experience, but also the impact of the work. Visiting the projects and meeting Ghanaians fueled her passion and interest in the work and the stories she told when she returned to Canada.
The trip's lasting impact is best demonstrated by the legacy gift Christine made to EWB in 2014, ten years after her trip to Ghana.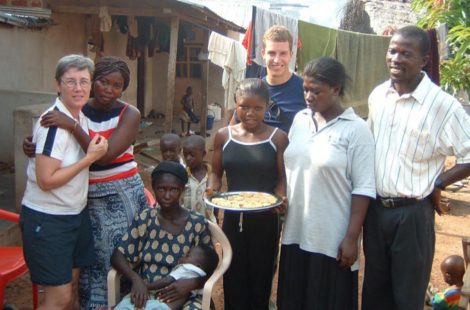 "I was looking for a charity that I believed in. I wanted to donate to an organization that I knew would do good things with the money. I think the Annual and Failure reports are very important and love reading them. I truly believe in the work you do," said Christine.
Without Aeroplan, EWB would not have the strong community of leaders, supporters and advocates we have today. Aeroplan has been one of the primary driving forces behind EWB's success in increasing people's affinity to our work and to the organization, ultimately growing EWB's impact exponentially over time. So thank you, Aeroplan, for connecting EWB to members of your community and bringing us all closer to members of ours, and to the beneficiaries who benefit from the work we do.