An Introduction to Jon Jennekens
I would like to introduce you to Jon Jennekens. Jon and I got to know each other earlier this year, and his story and commitment to international development blew me away. I knew immediately that I wanted to share some of his story with you for our first Donor Newsletter.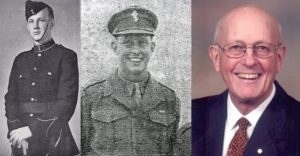 "My interest in engineering started as a teenager. I became interested in motorcycles, cars and trucks. The various body designs were of interest but what was important to me were the technical details of the engines, transmissions, suspensions, steering and braking systems. I decided that I would like to learn more about the design, manufacturing, operation and servicing of vehicles. 
In 1950, the cost of enrolling at a university to earn a degree in engineering was beyond the financial capabilities of my parents and me. However, by volunteering to serve in the Canadian Armed Forces I could enrol, if accepted, as a recruit at the Royal Military College where the fees were less than at "civilian" universities. It was an unexpected opportunity.
Upon graduation from RMC, as a  Lieutenant in the Royal Canadian Electrical and Mechanical Engineers, I was posted to the Canadian Brigade, 1st Commonwealth Division, UN Forces, Korea. My training as an engineer was invaluable to me in fulfilling my duties as Section Head, Wheeled and Tracked Vehicles, 42 Infantry Field Workshop. Our task was to recover and repair damaged vehicles.
Additionally, I was able during quiet periods, under canvas and with a chalkboard, to help some of the men in our workshop to add to their knowledge of science fundamentals. The attendees at our chalkboard discussions were soldiers who wished to succeed in their promotion exams following their return to Canada. In a way, the support that EWB gives to young leaders and entrepreneurs in Canada and abroad reminds me of my chalkboard lessons. I believe that the technical expertise that EWB is able to draw upon is the key to optimizing the results of their combined efforts.

As an engineer, for me, there is nothing better than sharing with my fellow engineers the happiness of the successful commissioning of a new device and realizing the benefits that innumerable persons will receive. This is the most important reward of my engineering career and being a part of EWB lets me share this joy with so many others from around the world who are working on creating sustainable and impactful devices and business for a brighter future. 
I have travelled to many countries. In most instances, I learned about the distressing lack of the basic needs for humans to survive. Beginning with my service in the Canadian Forces and then my involvement in drafting the Treaty on the Non-Proliferation of Nuclear Weapons (NPT), my duties as Canada's first Nuclear Safeguards Inspector, my appointment as Head of the Department of Safeguards of the UN's  International Atomic Energy Agency and post-retirement assignments with the International Bank for Reconstruction and Development and the Korean Peninsula Energy Development Organization. I felt I wanted to do something as I had seen so much that could be changed.
 As a consequence, my wife and I decided decades ago to support some of the internationally recognized organizations dedicated to providing assistance to the vast number of citizens of the World who desperately need help and EWB was one of those organizations. 
At 88, I look back upon my work as a Professional Engineer and regard my P. Eng. designation as an "enabling certification"'. I realize how fortunate I was to have been involved in a number of national and international projects and to have served with Canadians and citizens of other countries. Supporting EWB is a "natural" instinct.
As we move forward it is clear that 2020 has been a very challenging year for everyone but particularly for the less fortunate citizens of the World. Poverty for these people is a daily reality.  EWB and other internationally renowned charities are endeavouring to alleviate this distressing situation. 
When I think of EWB in the future I reflect upon the very successful mutually helpful links with other similarly motivated international organizations they have established. I encourage EWB to continue and increase this cooperation, and I encourage you to continue looking for and finding ways to support the elimination of poverty." -Jon