An Introduction to Christine MacDonald
We'd like to introduce you to Christine MacDonald, a former Aeroplan employee who partnered with EWB and flew to support 50+ small profitable Ghanaian companies, helping provide energy to more villages.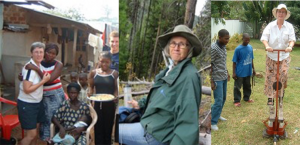 "In October of 2004, I was excited to be chosen as an Aeroplan employee to travel with Engineers Without Borders Canada (EWB) to Ghana.
I was inspired to apply because my husband and I planned for our retirement to go travelling and see if we could help locals out: Bruce, with physics and engineering, and myself with languages and team building. Perhaps we could share what we knew and help out?
Our project in Ghana was installing and supporting a "Multi-Functional Platform," a small diesel engine in a small village, as a power source, a working business. EWB had hoped that up to 50 small profitable companies could start this way, providing some energy into more villages.
Before I left Canada, in the EWB pre-training program, I learned that we foreigners do not understand how to fix anyone else's problems. We just don't understand the whole situation. I don't want somebody else coming to tell me how to "fix" my life! I realized that local folks, given any chance of opportunity, were ready to improve their lives themselves! I learned to listen more and I could share all the best stories of strong Ghanaians with everyone back home!
If you are looking to take part in a fellowship, be ready to take off your cultural "glasses" and look at the world from another perspective.
When I saw through "Ghana-glasses," I appreciated the water in my tap and hot showers, and our smooth roads. I loved the music in the streets, the attitude of Ghanaian locals and the smiles of the kids.
One of the biggest things I learned was to remember that in "gifting" you can impact someone's life in a way you did not originally intend. I learned that in the 70's, when we donated T-shirts to "poor Africans," we cheated a generation of people out of their sewing livelihood. We I wished to donate a Canadian soccer ball to the school kids in the village, I would have stopped the local market from selling their balls to those kids. Think twice before you donate. Think of the secondary consequences of your actions.
Sixteen years after my Ghana experience, I appreciate the goals of EWB to tackle the root causes of poverty and inequality. EWB remembers to "Strive for Humility – to learn by being open to new ideas from anywhere and anyone, and open about our mistakes."
It is amazing to me to see the evolution of the projects of EWB using the strength of the cellphone, among other strategies, with systemic advances in banking, health issues, schooling and even having mail addresses! These changes are improving the life opportunities for so many people.
I wonder what ideas the EWB partnership and the minds of the African continent will come up with next." -Christine (Neilson) MacDonald