Jocelyn Mackie, Co-CEO, Grand Challenges Canada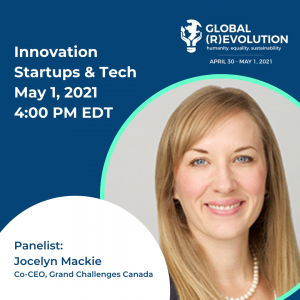 Jocelyn Mackie is Co-CEO of Grand Challenges Canada (GCC), giving leadership and oversight to all aspects of the organization's innovation platform. Together with Dr. Karlee Silver, she is focused on optimizing the platform and working with partners to enable innovators around the world and in Canada to save and improve lives through innovation. She recently led the organization's $200M renewal with the Government of Canada. She has been recognized as one of Canada's 'Top 40 Under 40', and a Canadian Woman Leader in Global Health.
Experiences that have helped shape her leadership include supporting the creation of a social enterprise with women in Honduras, working at a multinational pharmaceutical company, working in private practice with a focus on intellectual property litigation and legislative change, and being a mother to three small humans.
Jocelyn attained a JD from the Faculty of Law University of Toronto, an MSc in bioethics from the University of Toronto, and a business degree from Western's Richard Ivey School of Business. She was called to the Ontario and New York State Bars.
RSVP to Join Jocelyn at EWB's Global (R)Evolution Panel "Innovation, Startups & Tech: Paving the Way Post-Pandemic to Economic Growth" (May 1 @ 4:00PM ET)