Ian Pearce, Non-Executive Director, Metso Outotec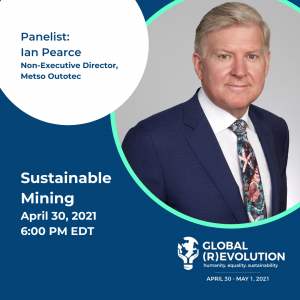 Ian is the Chair and Independent Director of Newgold, and MineSense. He also serves as an independent director of Metso : Outotec, Nexa Resources, and Northland Power.
Ian spent four years in London, UK as an X2 Resources partner, from 2013-2017. He was appointed CEO of Xstrata Nickel in 2006, after acquisition of Falconbridge. He was responsible for all nickel operations and growth projects from exploration to post closure.
From 2003-2006, Ian was Chief Operating Officer, and previously Vice President of Projects and Engineering at Falconbridge. Ten years prior to this, Ian worked at Fluor, starting as General Manager, Mining for Southern Africa, followed by a series of project roles covering, among others, the start-up of Escondida Phase 3 in Chile, the Batu Hijau copper-gold project in Indonesia, and oil sands in Canada for Shell. Ian started his career as a plant metallurgist at Goldfields of South Africa, where he worked for over ten years, finishing up as Assistant Metallurgical Manager, and then spent six years at LTA Process Engineering leading the Process Engineering department and performing as a Project Manager.
Ian grew up in South Africa, where he obtained his BSc from the University of the WItwatersrand and HND (Metallurgy) from the University of Johannesburg.
A nature enthusiast, Ian is a Trans Canada Trail foundation board member. He has also served on the COC board, as Chair of the Mining Association of Canada, Chair of the Nickel Institute, and as a member of the Women's Executive Network.
RSVP to Join Ian at EWB's Global (R)Evolution Panel "Sustainable Mining: What Role Can Canada Play to Better This Industry Both Environmentally & Socially?" (April 30 @ 6:00PM ET)