Bethany Borody, Director, Sustainability – New Gold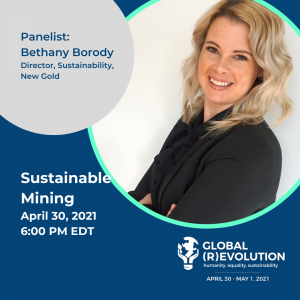 Having grown up, and worked extensively in Africa, Beth brings a uniquely global worldview to her work. She believes strongly in creating and implementing positive changes involving sustainability, on both an environmental and social context. This means having an in-depth understanding of the holistic planetary impact on and from industry in critical decision making.
With strong ties to the communities around her, including Indigenous peoples, Beth ensures that all voices are brought to the table when her teams are making decisions. Understanding people and their stories is an important part of being able to think strategically, as well as empathetically.
Beth does not shy away from complex and challenging problems, but instead approaches them with a people-centric mindset followed by data-driven design solutions. She offer a fresh, new and innovative voice in the mining industry and am committed to propelling this industry into the future.
RSVP to Join Bethany at EWB's Global (R)Evolution Panel "Sustainable Mining: What Role Can Canada Play to Better This Industry Both Environmentally & Socially?" (April 30 @ 6:00PM ET)